Target Beauty Box just $5 Shipped (1st 20,000)
1:56 PM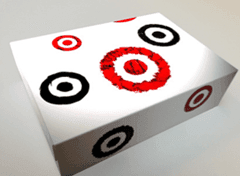 Here's a fun offer from Target – they are offering a Beauty Box for the first 20,000 fans to order HERE.
The box is a flat cost of $5 including shipping and holds some fun Beauty Samples and more.

"Beauty delivered right to your doorstep? Yes, please! We're offering an exclusive Beauty Box to the first 20,000 fans who order. Don't miss out on this fab beauty grab!"




Try on and try out some of our beauty faves. The Beauty Box by Target boasts beauty, skin care and nail care brands you already know, and a few that may be completely new to you. Shipping is included, plus each order includes a special offer to keep you looking fab while staying on budget. Orders ship in 4–6 weeks.
Note that their site is running slow – keep that in mind if you are not able to get through. Also note – be careful on the checkout page, it's not secure.